Dear IDRiM Members,
On behalf of the Board of Directors and as President of the International Society for Integrated Disaster Risk Management (IDRiM Society) we would like to express our most heartfelt condolences to all the people of Türkiye and Syria, as well as to our members, who have lost family members, friends and colleagues to the catastrophic magnitude 7.8 and 7.5 earthquakes on 6 February 2023.
The IDRiM Society has come a long way, advancing research and practice on integrated disaster risk management for over two decades. In August 2006, we held the IIASA-DPRI Forum on Integrated Disaster Risk Management in Istanbul, demonstrating that Türkiye was already an important partner in efforts towards disaster risk reduction. While there is a wealth of knowledge and advanced technologies available for earthquake risk reduction, the disastrous events of 6 February demonstrate once more that much remains to be done. As stated in our Strategic Plan, "only an integrated approach to disaster risk management, that accounts for complexity in the risks and their drivers," including "economic and social vulnerability," can provide "effective and implementable solutions to their reduction." There will be many lessons to be learned from the earthquake, including how to ensure that those lessons get implemented.
Let us work together, at all levels, from the local to the international, to identify key areas of research and implementation needed for more effective disaster risk reduction.
Sincerely,
Ana Maria Cruz
President
On behalf of the IDRiM Board of Directors
Welcome to IDRiM Society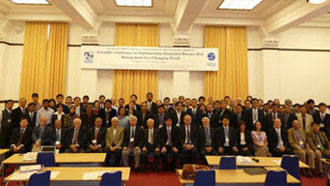 This is the official website of the Integrated Disaster Risk Management (IDRiM) Society, which was launched in October 2009 at the 9th IIASA-DPRI Conference on Integrated Disaster Risk Management in Kyoto, Japan with the participation of over 100 international experts, practitioners, and individuals from more than 20 different countries working in the disaster risk management field. The main objective of the IDRiM Society is to promote knowledge sharing, interdisciplinary research, and development on integrated disaster risk management contributing to the implementation of success models for efficient and equitable disaster risk management options. Furthermore, the IDRiM Society aims at promoting knowledge transfer and dissemination of information and concepts on integrated disaster risk management. Here you will find information about the IDRiM Society, how to become a member, important news, events, as well as links to other resources and organizations.
Group photo at the launching of the IDRiM Society on 15 October 2009 at Kyoto University, Kyoto, Japan.